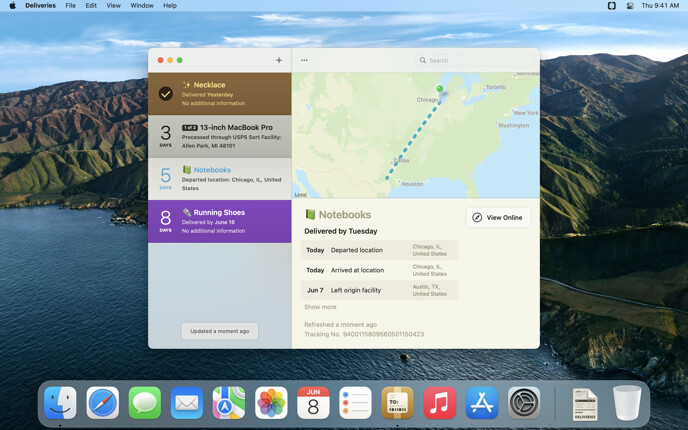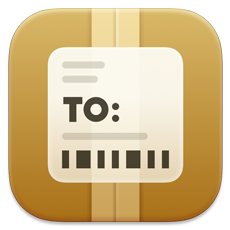 Deliveries
9.3.2 for Mac
Deliveries helps you keep track of all your packages, so you always know when they're going to arrive. Whether it's the latest gadget you've preordered online, or a new graphic novel you can't wait to dive into, Deliveries will keep tabs on it so you don't miss the doorbell.
The main list shows a summary of all your shipments and counts down the days. Select a delivery for more information, and see where it is on a map. If you like you can view the shipping company's web page, or easily share your shipment over email, iMessage, or AirDrop. Deliveries can even add estimated delivery dates to your calendar, and a Notification Center widget lets you quickly check your packages without opening the app. All your old deliveries are archived so you can look them up again if you need to.
Deliveries supports dozens of services, including UPS, FedEx, US Postal Service, DHL, TNT, Canada Post, DPD, and many more. You can also track orders from services like Amazon and Apple, even before they ship. (Some services are limited to specific countries—visit junecloud.com/services for details.) If you have packages from other services, just select "Other" and enter a delivery date and web site—so you can check on them when you need to and still keep everything in one place.
Deliveries is also available for iOS, in a single app that supports iPhone, iPad, and Apple Watch. You can sync your deliveries between devices with iCloud or our own Junecloud sync. If you create a Junecloud account, you can add new shipments from any web browser.
Languages
Deliveries is available in English, German (translated by Jennifer Brehm), Japanese (Nobtaka Nukui and Justin McPeak), and French (Applingua).
Important Note
Deliveries 9 for Mac is a separate app from our previous Mac app. This was a necessary change due to Apple's requirements for sharing purchases between iOS and Mac. If you currently have Deliveries 3 installed, you'll want to delete it and download Deliveries 9. If you want to re-download Deliveries 3 for any reason, open the App Store app, click your name in the bottom left corner, and find it in your Purchased list.
Update history
New in version 9.3.2:
New in version 9.3.1:
This update fixes a crash that could happen when opening the app. We have also fixed an issue on our server caused some purchases to expire unexpectedly. The previous update included enhancements for macOS Monterey, Shortcuts support, and more. For full details, visit juncld.com/e3Cd
Fixed a crash that could happen when opening the app.
Updated copyright dates.
New in version 9.3:
Updated for macOS Monterey.
Shortcuts are now supported on macOS Monterey. Note: due to limitations in macOS, shortcuts only have a written or spoken description, rather than showing the relevant deliveries like on iOS. The "scan a package" shortcut will open the "Add a Delivery" window since scanning barcodes is not supported in Deliveries for Mac.
Notifications that a package has been delivered are now marked as Time Sensitive on macOS Monterey.
Sharing a single delivery via Messages now just sends a link.
Sharing via AirDrop now sends a link instead of a file, so it's easier to share with someone that doesn't have the app.
Sharing multiple deliveries works more consistently and just shares a file in most cases.
The "…" menu now always shows a "Sign In" option for Amazon orders, in case you need it.
You can now search for Apple orders using a tracking number for an individual shipment in that order.
Improved validation of tracking numbers. For example there were certain cases where as USPS number with spaces would give an error instead of automatically removing them.
Improved validation for FedEx tracking numbers and Apple order numbers.
Improved tracking number detection for Poste Italiane and LaserShip.
Improved how map views determine what part of the map to show.
Improved filtering of unwanted numbers when adding from an email.
Improved the appearance of the subscription view.
Improved results for "Add multiple deliveries" on Amazon. This is now an easy way to add all orders that have not already been added.
Fixed a bug where some deliveries might show "delivery date unknown" and no other information when there was an error updating the delivery.
Fixed a bug where an archived item that was removed from a calendar might be added back.
Fixed a bug that could cause the widget to crash and appear blank after upgrading from an earlier version of the app.
Fixed a bug where deliveries could fail to update after a device was set to a date in the future.
Fixed a bug where the Add to Deliveries extension might fail to unload completely after being canceled. This could cause some unexpected behavior the next time it was used, like Item Name suggestions not working correctly.
Fixed an issue tracking DHL numbers with a dash.
Fixed an issue where new items did not always appear at the top of the list when using manual sorting.
Fixed an issue where the app would needlessly sync with Junecloud immediately after a time change.
Fixed an issue verifying purchases on some computers.
Fixed an issue where all of the preference panes were loaded at once.
Fixed some issues with the appearance of the menu bar app on macOS 11 or later.
Supported services
Amazon Including Amazon.com, Amazon.ca, Amazon.co.uk, Amazon.co.jp, Amazon.de, Amazon.at, Amazon.es, Amazon.fr, and Amazon.it, Amazon.in, as well as Amazon Payments. When you track an Amazon order you'll get tracking details from many of the shipping companies they use, including the US Postal Service, UPS, OnTrac, LaserShip, Ensenda, Prestige, and more.
Apple.com Including all international stores.
Aramex Shop and Ship deliveries only.
Canada Post (Postes Canada)
Chronopost (France)
DHL Including shipments in most countries, DHL eCommerce (formerly DHL GlobalMail) in the US, as well as most shipments in Germany. For some shipments, including DHL Germany and DHL eCommerce, the delivery date is not currently shown directly in the app, but is available in an online view.
DPD Germany. Currently DPD UK information can only be shown in an online view.
GLS Including Austria, Belgium, Denmark, France, Germany, Ireland, Luxembourg, Portugal, and Spain. We do not currently support GLS US.
Hermes Logistik Gruppe (HLG) Germany only.
Japan Post Including EMS, Yu-Pack, Registered Mail, and Morning 10 Overnight Mail. We do not currently support JP Express.
La Poste (France)
LaserShip
OnTrac
Parcelforce
Post (Austria)
Poste Italiane
Posten (Norway) Including Bring.
PostNL (formerly TNT Post Netherlands)
PostNord (Sweden and Denmark)
Purolator We do not currently support Purolator International.
Sagawa Express
TNT Includes most countries, as well as TNT Express Australia. We do not currently support TNT UK, TNT France, or TNT Italia.
UPS and UPS Mail Innovations We do not currently support UPS Freight, UPS i-parcel, or UPS Air Cargo.
U.S. Postal Service (USPS, United States Postal Service or US Post Office)
Yamato Transport (Kuroneko)
Yodel
Placeholder You can manually add other packages from other services by entering a web site, delivery date, and other info.
In some cases, services we previously supported are no longer available due to changes with the shipping service. These include FedEx, Australia Post, DPD UK, Hongkong Post, Royal Mail, and Swiss Post. You can still add shipments from these services, but tracking information can only be shown in an online view.