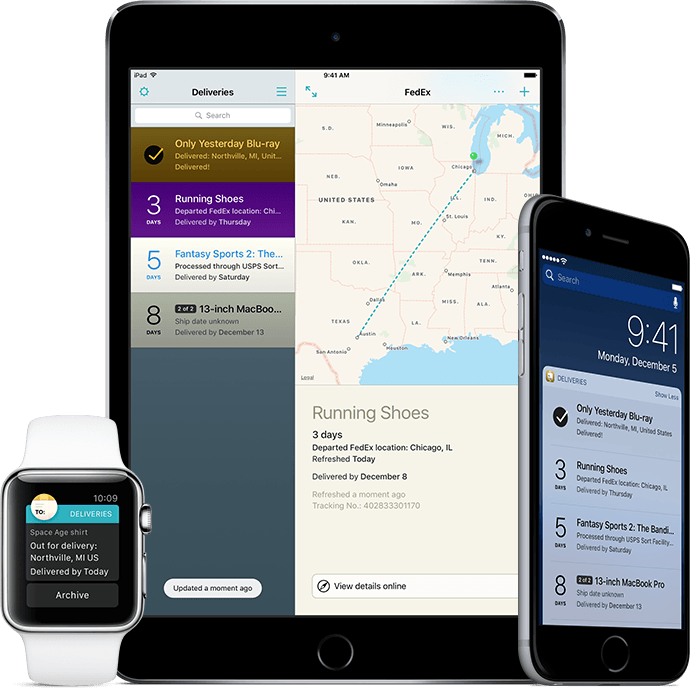 Deliveries: a package tracker for iPhone, iPad, Apple Watch, and Mac
Deliveries helps you keep track of all your packages, so you always know when they're going to arrive. Whether it's the latest gadget you've preordered online, or a new graphic novel you can't wait to dive into, Deliveries will keep tabs on it so you don't miss the doorbell.
Deliveries will help you track your packages from UPS, FedEx, DHL, TNT, and many other shipping companies. You can also track orders from services like Amazon and Apple before they ship. Your full tracking details are just a tap away, and you can also see your package's location on a map. If you like you can view the shipping company's web page, or easily share your shipment over email, text message, or AirDrop. Deliveries can even add estimated delivery dates to your calendar.
Deliveries: now with dark mode and support for the latest devices This week we released Deliveries 3.1 for Mac, with support for macOS Mojave's new dark appearance. We also released…
Deliveries 8.4 for iOS Deliveries will help you track packages from UPS, FedEx, USPS, DHL, and many more. You can track orders from Amazon, Apple, and others…
Notefile 2.7.4 for iOS Notefile lets you make quick notes and view them quickly, from anywhere. It's a universal app for iPhone, iPad, and iPod touch. You can…
Notefile Alfred Workflows Quickly search your Notefile notes or create a new one with these workflows for Alfred.