Notefile

2.0 for Mac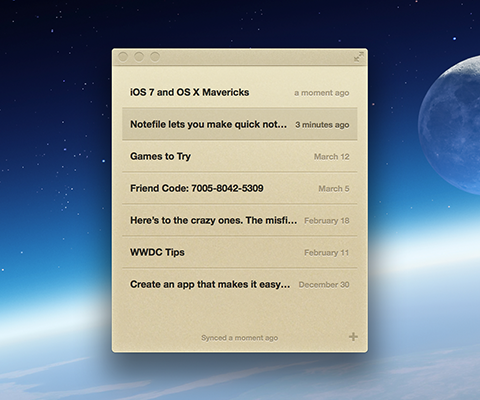 Notefile lets you make quick notes and view them easily, on all your devices. It's available as a Mac app, a Dashboard widget, and a universal app for iPhone, iPad, and iPod touch. Your notes sync automatically with iCloud, or our own Junecloud sync.
Shows in the Dock or your menu bar
Compact window stays out of the way
Set a keyboard shortcut to get to your notes quickly
Navigate quickly with your keyboard
Calculate math right in your notes
High resolution graphics for the MacBook Pro with Retina Display
Search for your notes in Spotlight
Easily share notes via email, iMessage, and more
Open plain text files from other apps, and export them too
OS X 10.8 or later is required
Languages:
Notefile is available in English, Japanese (by Nobtaka Nukui and Justin McPeak), French (Thierry Di Lenarda), and German (Jennifer Brehm).
Update history:
New in version 2.0
Updated design to match Notefile 2.0 for iOS.
You can now type a space in the search field to show everything.
iCloud Keychain is now used for your Junecloud sync account if you have it enabled.
If a note syncs while you're editing it, the insertion point no longer jumps to the bottom.
Improvements for iCloud and Junecloud syncing.
Improved support for responsive scrolling in Mavericks.
Fixed a bug where the app would sometimes crash when syncing with iCloud.
Fixed a bug where sharing, exporting, or printing a note might not include the latest changes.
Fixed a bug in OS X Mavericks where the menu bar did not appear at launch.
Fixed a bug in OS X Mavericks where Spotlight indexing did not work correctly.
Fixed a bug in OS X Mavericks where Quick Look previews did not display correctly.
Fixed a bug where the window would sometimes extend off the bottom of the screen when using multiple displays.
Fixed a bug where the main window would sometimes jump in front of the preferences window when returning to the app.
Fixed a bug where the window was not always positioned correctly in menu bar mode.
Fixed a bug where no error message was displayed if there was a problem exporting notes in Notefile format.
Fixed some quirks when clicking the "Switch to Junecloud" button.
Note: OS X 10.8 or later is now required.
Need help?
If you have any questions, please see Notefile for Mac Help.
More software
Notefile Alfred Workflows To use these workflows, you will need Notefile for Mac, Alfred 2, and the Alfred…
Delivery Status Alfred Workflow To use this workflow, you will need Delivery Status for iOS or Delivery Status Widget for…
Delivery Status 6.1 Widget for Mac A Mac with an Intel processor and OS X 10.5.8 or later is required. For Macs with PowerPC…