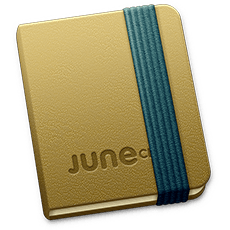 Notefile
2.5.1 for Mac
Notefile lets you make quick notes and view them easily, on all your devices. It's available as a Mac app, a Dashboard widget, and a universal app for iPhone, iPad, and iPod touch. Your notes sync automatically with iCloud, or our own Junecloud sync.
Shows in the Dock or your menu bar
Compact window stays out of the way
Set a keyboard shortcut to get to your notes quickly
Navigate quickly with your keyboard
Calculate math right in your notes
Easily share notes via email, iMessage, and more
Open plain text files from other apps, and export them too
Languages
Notefile is available in English, Japanese (by Nobtaka Nukui and Justin McPeak), French (Thierry Di Lenarda), and German (Jennifer Brehm).
Update history
New in version 2.5.1
Fixed a bug where trying to sync Chinese or Japanese text to Junecloud might cause the app to crash.
The "split view" mode now does a better job of focusing on the text area when it's appropriate (like when a note is clicked on or the return key is pressed).
Improvements for Junecloud Sync, particularly when logging in or out. Also fixed a significant inefficiency that would happen if both Deliveries and Notefile were logged into Junecloud at the same time.
New in version 2.5
A fresh look, with full support for Yosemite (including the dark menu bar).
The window is no longer attached to the menu bar in menu bar mode, for greater flexibility, and the app no longer has to be restarted to switch modes.
Easier access to share, export, and delete options while you're viewing a note.
Much smaller app size for faster loading.
Added a restore option to restore a deleted note without having to edit it.
You can now search your history even after deleting the last note.
Improved iCloud support, especially with accounts that have iCloud Drive enabled.
Added a couple of larger font size options.
Improved full screen view.
A very nice about screen.
Note: OS X Yosemite (10.10) is now required.