Notefile for Mac

1.3.1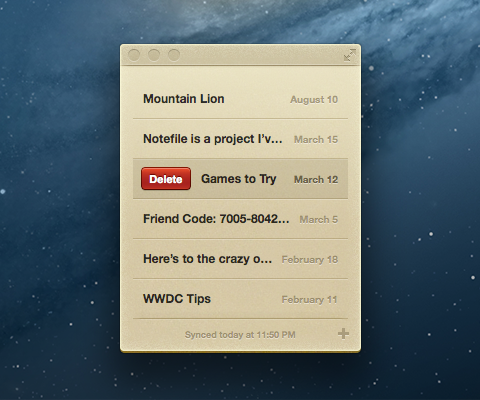 Notefile lets you make quick notes and view them easily, on all your devices. It's available as a Mac app, a Dashboard widget, and a universal app for iPhone, iPad, and iPod touch. Your notes sync automatically with iCloud, or our own Junecloud sync.
Shows in the Dock or your menu bar
Compact window stays out of the way
Set a keyboard shortcut to get to your notes quickly
Navigate quickly with your keyboard
Calculate math right in your notes
High resolution graphics for the new MacBook Pro with Retina Display
Search for your notes in Spotlight
Share notes with the sharing features in Mountain Lion
OS X 10.7 or later is required
Languages:
Notefile is available in English, Japanese (by Nobtaka Nukui and Justin McPeak), French (Thierry Di Lenarda), and German (Jennifer Brehm).
Update history:
New in version 1.3.1
Fixed a bug where the window was sometimes too large for the screen in menu bar mode.
Fixed a bug where text might display in the wrong font when switching between notes in different languages.
New in version 1.3
In menu bar mode, the window size now adjusts to fit its contents. Drag the bottom of the window to set the maximum size.
You can now print your notes. Choose Print from the file menu, or right-click a note in the list.
Times are more specific, using text like "a moment ago" or "3 hours ago".
Better window sizing for full screen and zoom.
Improved swipe gestures.
Improvements for VoiceOver.
Pressing command-return while the window is large now switches the focus to the notes list, for better keyboard navigation.
The "Close" option is now in the Window menu where it's more appropriate.
Fixed a bug where the app could freeze up in menu bar mode.
Fixed a bug where some items were removed from the history too soon.
Improved reliability when syncing with Junecloud for the first time.
Need help?
If you have any questions, please see Notefile for Mac Help.
More software
Notefile 1.6 Widget for Mac Notefile is also available for iPhone, iPad, and iPod touch A Mac with an Intel…
Delivery Status 6.0 Widget for Mac A Mac with an Intel processor and OS X 10.5.8 or later is required. For Macs with PowerPC…
Bluetooth Switch 2.3 This widget displays the current status of Bluetooth. Simply click the icon to switch…