Notefile

2.1.1 for Mac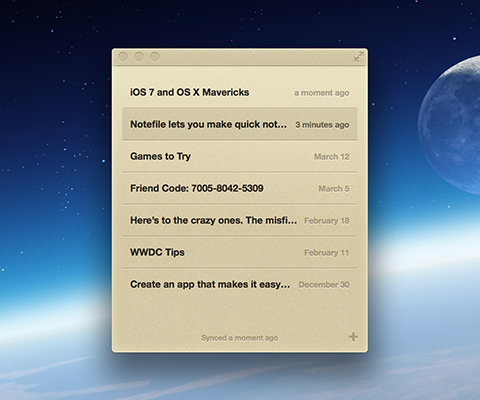 Notefile lets you make quick notes and view them easily, on all your devices. It's available as a Mac app, a Dashboard widget, and a universal app for iPhone, iPad, and iPod touch. Your notes sync automatically with iCloud, or our own Junecloud sync.
Shows in the Dock or your menu bar
Compact window stays out of the way
Set a keyboard shortcut to get to your notes quickly
Navigate quickly with your keyboard
Calculate math right in your notes
High resolution graphics for the MacBook Pro with Retina Display
Search for your notes in Spotlight
Easily share notes via email, iMessage, and more
Open plain text files from other apps, and export them too
OS X 10.8 or later is required
Languages:
Notefile is available in English, Japanese (by Nobtaka Nukui and Justin McPeak), French (Thierry Di Lenarda), and German (Jennifer Brehm).
Update history:
New in version 2.1.1
Fixed a bug where notes would not always export in the right format.
Fixed a bug that made it impossible to register for a Junecloud account from within the app.
Fixed a possible crash while syncing, and some other minor syncing improvements.
Fixed a bug that could prevent exported files from being correctly associated with the app.
Fixed a problem with code signing on certain versions of OS X.
New in version 2.1
Significant performance improvements for iCloud sync.
Improved support for right-to-left languages.
Swipe gestures now respect your setting in System Preferences.
Fixed a bug in menu bar mode where the window might appear too high or too low on the screen.
Fixed a bug where scrolling might stop working.
Fixed a bug where the "Hide Automatically" option in the gear menu did not always show the correct state.
Fixed a possible crash when opening files, and a few other possible causes of crashes.
Some other minor improvements.
Need help?
If you have any questions, please see Notefile for Mac Help.
More software
Deliveries 1.0.1 for Mac Deliveries helps you keep track of all your packages, so you always know when they're g…
Notefile 1.6.2 Dashboard Widget for Mac Notefile is also available for iPhone, iPad, and iPod touch A Mac with an Intel…
Delivery Status 6.1.2 Dashboard Widget for Mac A Mac with an Intel processor and OS X 10.5.8 or later is required. For Macs with PowerPC…