Notefile for Mac

1.2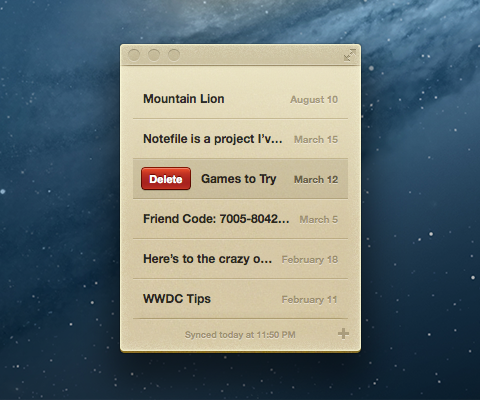 Notefile lets you make quick notes and view them easily, on all your devices. It's available as a Mac app, a Dashboard widget, and a universal app for iPhone, iPad, and iPod touch. Your notes sync automatically with iCloud, or our own Junecloud sync.
Shows in the Dock or your menu bar
Compact window stays out of the way
Set a keyboard shortcut to get to your notes quickly
Navigate quickly with your keyboard
Calculate math right in your notes
High resolution graphics for the new MacBook Pro with Retina Display
Search for your notes in Spotlight
Share notes with the sharing features in Mountain Lion
OS X 10.7 or later is required
Languages:
Notefile is available in English, Japanese (by Nobtaka Nukui and Justin McPeak), French (Thierry Di Lenarda), and German (Jennifer Brehm).
Update history:
New in version 1.2
Notefile's URL scheme now supports searches: notefile://search or notefile://search?text=example
Greatly improved scrolling performance in the list view.
Viewing a note in your history no longer restores it. Make a change to a note to restore it.
Fixed a bug where simply searching for an archived note would restore it.
Fixed a bug where the app became unusable if you searched for something, then edited a note in a way that caused it to no longer appear in the search.
Fixed a bug where the scrollbar would sometimes flash white when it first appeared.
Fixed a very specific sequence that would make everything disappear.
Numerous tweaks and improvements for syncing.
New in version 1.1
Clickable links: click a link to open it in your browser. Other data detectors like phone numbers and addresses are enabled as well.
Text size: choose from various text sizes in the preferences.
Export: save a copy of your notes in Plain Text or Notefile format.
Start at login: there's now an option to automatically open Notefile when you start up your Mac.
iCloud improvements for OS X 10.8 or later.
In menu bar mode, the gear menu now includes a "Hide Automatically" option so you can quickly toggle it.
Improved the "calculate" option.
Imported files now preserve their date, and the file name is added to the first line.
Changes to spell checking and text substitution settings are now remembered.
Tab spacing should match iOS a bit more closely.
Prettier search bar.
Fixed a bug where the app would sometimes consume 100% of the CPU.
Fixed a bug where a note created via URL (notefile://add?text=Hello) would not get saved unless it was modified afterward.
Fixed a bug where a note might fail to save if you had just deleted the last note.
Fixed a bug where some strange things could happen if "hide automatically" was checked and the app was in full screen mode.
Many other subtle improvements.
More software
Delivery Status 5.9.2 OS X 10.5.8 or later and an Intel processor are required. For Macs with PowerPC…
Notefile Widget for Mac 1.4 Notefile is also available for iPhone, iPad, and iPod touch OS X 10.5.8 or later is…
Demobilizer 1.1.1 Demobilizer takes mobile web pages and automatically redirects them to the full site. For…