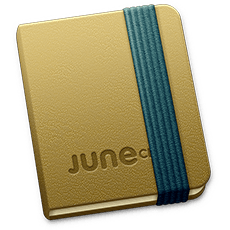 Notefile
2.6 for Mac
Notefile lets you make quick notes and view them easily, on all your devices. It's available as a Mac app, a Dashboard widget, and a universal app for iPhone, iPad, and iPod touch. Your notes sync automatically with iCloud, or our own Junecloud sync.
Shows in the Dock or your menu bar
Compact window stays out of the way
Set a keyboard shortcut to get to your notes quickly
Navigate quickly with your keyboard
Calculate math right in your notes
Easily share notes via email, iMessage, and more
Open plain text files from other apps, and export them too
Languages
Notefile is available in English, Japanese (by Nobtaka Nukui and Justin McPeak), French (Thierry Di Lenarda), and German (Jennifer Brehm).
Update history
New in version 2.6
You can now share notes with AirDrop.
Opening multiple files at once will now add all of them, instead of just one.
In menu bar mode, the window now moves the current screen or space when the app is activated.
Syncing improvements for iCloud and Junecloud.
Improved keyboard navigation.
Improved reliability when exporting, and added an option to cancel when there's an error exporting multiple items.
Quitting the app is much faster now, especially when syncing with iCloud.
The contextual menu on the Dock icon will now show your 10 most recent notes instead of all of them.
Fixed a bug where some changes might not sync if they hadn't already synced when the app quit.
Some database optimizations.
Lots of minor fixes and improvements.