Delivery Status

5.1 for iOS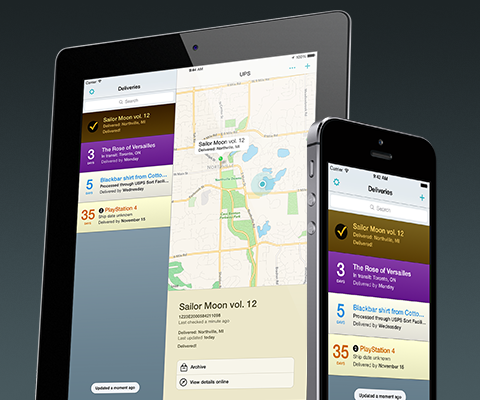 Delivery Status helps you keep track of all your packages, so you always know when they're going to arrive. The main view shows the latest status of all your packages, and counts down to the estimated delivery date. Tap a delivery for more information, and to see where it is on a map. If you like you can view the shipping company's web page, or easily share your shipment over email, text message, or AirDrop. On iOS 7, Delivery Status can even update in the background, or add your estimated delivery dates to your calendar.
Delivery Status supports more than 30 services, including UPS, FedEx, USPS, DHL, TNT, Canada Post, City Link, Royal Mail, DPD, and many more. You can also track orders from services like Amazon and Apple before they ship. If you have a package from a service we don't support, just select "Other" and enter a delivery date and web site. Delivery Status will keep an eye on the site and let you know when it changes.
You can sync your deliveries between your devices with iCloud or our own Junecloud sync. If you create a Junecloud account, you can update your tracking numbers from any web browser, or sync with our free Dashboard widget for Mac.
Languages:
Delivery Status is available in English, German (translated by Jennifer Brehm), Japanese (Justin McPeak and Nobtaka Nukui), French (Thierry Di Lenarda), Italian (Ivano Brignoli), Dutch (Tim Van Damme), Norwegian (Jonas Ensby), Danish (Tony Lorentzen and Christian Rasmussen), and Swedish (Christofer Karlsson).
Update history:
New in version 5.1
Improved background notifications—updates are more frequent when they're needed, less frequent when they're not. We've also gotten rid of some unnecessary notifications, and fixed some problems where notifications weren't appearing when they should.
Badges are now shown for background notifications. If you don't want them, just open the Settings app, tap Notification Center, find Deliveries in the list, and update your settings there.
"Delivered" notifications now start with a checkmark to make them immediately clear.
Manual sorting is back.
The "…" menu now includes an option to Archive—or Delete for already archived items.
You can now type a space in the search field to show everything.
You can now swipe to delete an archived delivery while searching.
Added support for Amazon.in.
Keyboard shortcuts for Bluetooth keyboards in iOS 7. ⌘N: add a new delivery. ⌘F: search. ⎋: close the current view or cancel search.
The map does a much better job of zooming into the right area, especially on iOS 7.1 or if the package is across the Pacific from you.
Apple orders can no longer be looked up by zip code, so the interface has been updated to reflect this.
The barcode and 1Password buttons are much, much easier to tap now.
AmazonSmile URLs are now detected on the clipboard.
If the delivery date changes after a shipment is delivered, it will no longer trigger a notification.
iCloud improvements.
The "Clear Passwords" option now clears your cookies as well, completely logging you out of third-party services.
Manually refreshing now only excludes deliveries that were updated in the last 5 minutes (rather than 10).
Updating the calendar is a bit more efficient now.
Fixed a bug where changes to a delivery would not always sync.
Fixed a bug where a delivery might sync changes in the middle of updating, and then show details that didn't match.
Fixed various display quirks on iOS 7.1.
Fixed a bug where the online view would sometimes appear blank.
Fixed a bug where changing the sort mode on iPad didn't take effect immediately.
Fixed a bug where the barcode button would sometimes disappear while typing.
Fixed a bug where AirDrop sharing would sometimes fail on the first try.
Fixed a bug where deliveries would sometimes get archived in the middle of updating and get stuck that way.
Fixed a bug where a delivery might try to update repeatedly if there was no internet connection.
Fixed a bug where the "Add Delivery" screen might say "Edit Delivery" the first time you opened it.
Fixed a bug where the view would get stuck in editing mode if you started a search, swiped to delete, and then tapped cancel.
Fixed a minor bug in "Last Updated" sorting for some deliveries.
Updated translations with the help of our wonderful translators.
Various visual refinements, other minor bug fixes, and 64-bitness.
Supported services include:
Adobe.com US and Canada only
Amazon Including Amazon.com, Amazon.ca, Amazon.co.uk, Amazon.co.jp, Amazon.de, Amazon.at, Amazon.es, Amazon.fr, and Amazon.it, as well as Amazon Payments. When you track an Amazon order you'll get tracking details from many of the shipping companies they use, including the US Postal Service, UPS, OnTrac, LaserShip, Ensenda, Prestige, and more.
Apple.com Including all international stores. The iPhoto print service is not currently supported, though you may be able to track these shipments with a different service once you receive a tracking number.
Australia Post
Canada Post (Postes Canada)
City Link
DHL Including Express deliveries in most countries, US GlobalMail, UK Domestic Express, and Germany. DHL Express Germany, UK Domestic Express, and SmartMail are not currently supported.
DPD Germany and UK.
FedEx Including most countries, as well as FedEx SmartPost. FedEx UK is not currently supported.
GLS Including Austria, Belgium, Denmark, France, Germany, Ireland, Luxembourg, Portugal, and Spain
Google Checkout
Hermes Logistik Gruppe (HLG) Germany only
Hongkong Post
Japan Post Including EMS, Yu-Pack, Registered Mail, and Morning 10 Overnight Mail. JP Express is not currently supported.
La Poste (France), including Colissimo and Chronopost.
LaserShip
OnTrac
Parcelforce
Post (Austria)
Post Danmark
Poste Italiane
Posten (Norway)
Posten (Sweden)
PostNL (formerly TNT Post Netherlands)
Purolator
Royal Mail
Sagawa Express
Swiss Post
TNT Includes most countries, as well as TNT Express Australia. TNT UK, TNT France, and TNT Italia are not currently supported.
UPS and UPS Mail Innovations UPS Freight and UPS Air Cargo are not currently supported.
USPS (United States Postal Service or US Post Office)
Yamato Transport (Kuroneko)
Yodel
Other You can manually add other packages from other services by entering a web site, delivery date, and other info.
Need help?
If you have any questions, please see Delivery Status touch Help.
More software
Notefile 2.0.2 for iOS Available on the App Store Notefile lets you make quick notes and view them easily, on…
Chicago Avenue Moon 1.0 Available on the App Store Chicago Avenue Moon is a responsive, generative music app…