Delivery Status

5.0.1 for iOS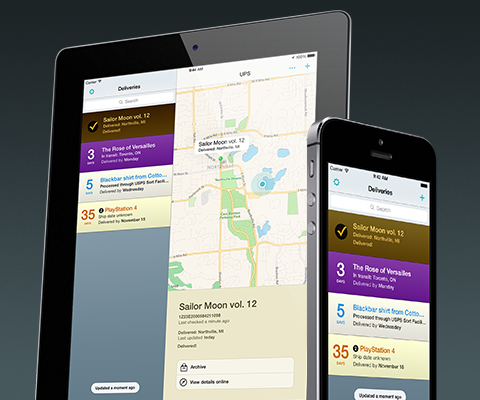 Delivery Status helps you keep track of all your packages, so you always know when they're going to arrive. The main view shows the latest status of all your packages, and counts down to the estimated delivery date. Tap a delivery for more information, and to see where it is on a map. If you like you can view the shipping company's web page, or easily share your shipment over email, text message, or AirDrop. On iOS 7, Delivery Status can even update in the background, or add your estimated delivery dates to your calendar.
Delivery Status supports more than 30 services, including UPS, FedEx, USPS, DHL, TNT, Canada Post, City Link, Royal Mail, DPD, and many more. You can also track orders from services like Amazon and Apple before they ship. If you have a package from a service we don't support, just select "Other" and enter a delivery date and web site. Delivery Status will keep an eye on the site and let you know when it changes.
You can sync your deliveries between your devices with iCloud or our own Junecloud sync. If you create a Junecloud account, you can update your tracking numbers from any web browser, or sync with our free Dashboard widget for Mac.
Languages:
Delivery Status is available in English, German (translated by Jennifer Brehm), Japanese (Justin McPeak and Nobtaka Nukui), French (Thierry Di Lenarda), Italian (Ivano Brignoli), Dutch (Tim Van Damme), Norwegian (Jonas Ensby), Danish (Tony Lorentzen and Christian Rasmussen), and Swedish (Christofer Karlsson).
Update history:
New in version 5.0.1
iCloud Keychain is now used for your Junecloud sync account if you have it enabled.
Added support for Chronopost.
On iOS 7, you can now press and hold the barcode scanner button to choose the old ZBar scanner. The ZBar scanner works better for certain barcodes, like DHL Germany and Hermes. Once you've switched to the ZBar scanner it will be used automatically in the future. Just press and hold the button again if you want to switch back.
VoiceOver improvements.
Calendar events are no longer marked as "busy".
Deliveries will now sync and update occasionally if the app is left open.
A sound will now play if the status updates while the application is open, but not active.
Fixed a bug that could cause background updates to fail if syncing took too long, especially with iCloud.
Fixed a bug that could cause repeated notifications to appear.
Fixed a bug with background updates that would cause some deliveries to update more than necessary.
Fixed a bug where saved passwords were not always filled in automatically.
Fixed a bug where the app would crash if the calendar used for delivery dates was removed.
Fixed a bug where the app could get stuck in a loop when attempting to sync while your device was locked.
Fixed a bug on where a pin at the top of the map might get cut off.
Fixed a bug where action sheets (pop up lists of options) did not display correctly on iPad.
Fixed some blurriness on non-Retina displays.
Fixed some minor display problems with certain "Other" deliveries.
The "Cancel" button on the Sync screen is now just a back button when it's more appropriate.
Updated app icon in sharing emails.
New in version 5.0
A new look: redesigned for iOS 7 (but we didn't forget about iOS 6).
Background notifications: with iOS 7, your deliveries can update occasionally in the background, and let you know when something changes. Open the settings and tap Notifications to turn this on.
Calendar support: optionally add estimated delivery dates to your calendar. Open the settings and tap Notifications to turn this on.
Search: You can now search your deliveries by item name, tracking number, shipping company, current status, and more.
Archive: Deliveries are now archived instead of deleted. The detail view also shows an archive button when a delivery is complete. You can search for archived deliveries, view them, and restore them if necessary.
iCloud sync: You can now sync with either iCloud or Junecloud sync. (For now, stick with Junecloud if you need to sync with your Mac!)
Lightning fast barcode scanning: on iOS 7, barcodes scan faster than ever.
AirDrop sharing: on iOS 7 you can easily share deliveries with others around you.
Text and iMessage sharing: on iOS 7 you can now share deliveries via text message or iMessage.
More sorting options: You can now sort by last updated in addition to by delivery date or date added.
Improved efficiency. For example, manually refreshing will skip deliveries that were just updated, and deliveries that haven't changed in a while will update less often.
When a countdown is over 99 days, it will now display in months.
Favorites now sync with iCloud (even if you're using Junecloud to sync deliveries).
You can now use the return key to cycle through the settings when you're adding a delivery, for faster entry.
1Password integration helps you easily look up your passwords.
Web pages now have a back button, plus an option to copy the link or open it in Safari.
When you're viewing the delivery details, you can now tap a numbered item to show that shipment in the main list.
If you edit an "Other" delivery and add a tracking number, Delivery Status will now try to guess which service it is.
Improved searching of the services list: more services are marked as EMS, and "other" is now shown if there are no matches.
Many, many other improvements and optimizations.
Note: this version requires iOS 6 or later.
Supported services include:
Adobe.com US and Canada only
Amazon Including Amazon.com, Amazon.ca, Amazon.co.uk, Amazon.co.jp, Amazon.de, Amazon.at, Amazon.es, Amazon.fr, and Amazon.it, as well as Amazon Payments. When you track an Amazon order you'll get tracking details from many of the shipping companies they use, including the US Postal Service, UPS, OnTrac, LaserShip, Ensenda, Prestige, and more.
Apple.com Including all international stores. The iPhoto print service is not currently supported, though you may be able to track these shipments with a different service once you receive a tracking number.
Australia Post
Canada Post (Postes Canada)
City Link
DHL Including Express deliveries in most countries, US GlobalMail, UK Domestic Express, and Germany. DHL Express Germany, UK Domestic Express, and SmartMail are not currently supported.
DPD Germany and UK.
FedEx Including most countries, as well as FedEx SmartPost. FedEx UK is not currently supported.
GLS Including Austria, Belgium, Denmark, France, Germany, Ireland, Luxembourg, Portugal, and Spain
Google Checkout
Hermes Logistik Gruppe (HLG) Germany only
Hongkong Post
Japan Post Including EMS, Yu-Pack, Registered Mail, and Morning 10 Overnight Mail. JP Express is not currently supported.
La Poste (France), including Colissimo and Chronopost.
LaserShip
OnTrac
Parcelforce
Post (Austria)
Post Danmark
Poste Italiane
Posten (Norway)
Posten (Sweden)
PostNL (formerly TNT Post Netherlands)
Purolator
Royal Mail
Sagawa Express
Swiss Post
TNT Includes most countries, as well as TNT Express Australia. TNT UK, TNT France, and TNT Italia are not currently supported.
UPS and UPS Mail Innovations UPS Freight and UPS Air Cargo are not currently supported.
USPS (United States Postal Service or US Post Office)
Yamato Transport (Kuroneko)
Yodel
Other You can manually add other packages from other services by entering a web site, delivery date, and other info.
Need help?
If you have any questions, please see Delivery Status touch Help.
More software
Notefile 2.0.2 for iOS Available on the App Store Notefile lets you make quick notes and view them easily, on…
Chicago Avenue Moon 1.0 Available on the App Store Chicago Avenue Moon is a responsive, generative music app…