Notefile for iOS

1.6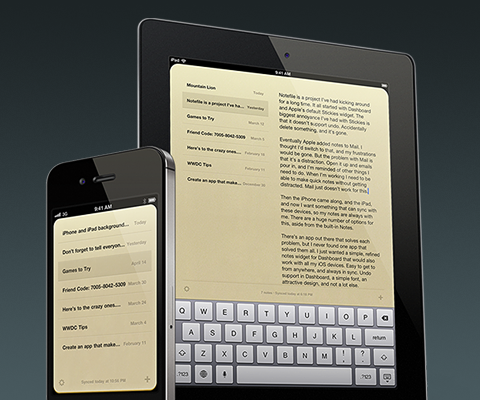 Notefile lets you make quick notes and view them easily, on all your devices. It's available as a Mac app, a Dashboard widget, and a universal app for iPhone, iPad, and iPod touch. Your notes sync automatically with iCloud, or our own Junecloud sync.
Share notes with the sharing features in iOS 6
Open plain text files from other apps in Notefile
Select some math to calculate it right in your notes
Supports TextExpander touch snippet expansion
iOS 4.0 or later is required
Languages:
Notefile is available in English, Japanese (by Nobtaka Nukui and Justin McPeak), French (Thierry Di Lenarda), and German (Jennifer Brehm).
Update history:
New in version 1.6
You can now long press on a link to Open, Copy, or Edit it.
The buttons above the keyboard now ignore accidental taps while typing.
Notefile's URL scheme now supports searches: notefile://search or notefile://search?text=example
1Password integration lets you easily look up your Junecloud sync password.
Viewing a note in your history no longer restores it. Make a change to a note to restore it.
Fixed a bug on iPad where the app would crash if you were using the split keyboard, or had it undocked.
Fixed a bug where the app would crash when exporting in iOS 4.
Fixed several minor bugs and quirks related to adding, deleting, or selecting notes, mainly on iPad.
Numerous tweaks and improvements for syncing.
Many other minor bug fixes and refinements, especially in the settings.
Need help?
If you have any questions, please see Notefile for iOS Help.
More software
Notefile for Mac 1.2 Available on the Mac App Store Notefile lets you make quick notes and view them…
Delivery Status 5.9.2 OS X 10.5.8 or later and an Intel processor are required. For Macs with PowerPC…
Notefile Widget for Mac 1.4 Notefile is also available for iPhone, iPad, and iPod touch OS X 10.5.8 or later is…