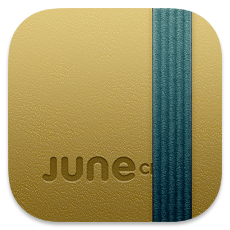 Notefile
2.5.1 for iOS
Notefile lets you make quick notes and view them easily, on all your devices. It's available as a Mac app, a Dashboard widget, and a universal app for iPhone, iPad, and iPod touch. Your notes sync automatically with iCloud, or our own Junecloud sync.
Share notes via AirDrop, email, iMessage, and more
Open plain text files from other apps, and export them too
Select math to calculate it right in your notes
Supports TextExpander touch snippet expansion
iOS 8 or later is required
Languages
Notefile is available in English, Japanese (by Nobtaka Nukui and Justin McPeak), French (Thierry Di Lenarda), and German (Jennifer Brehm).
Update history
New in version 2.5.1
Fixed a bug where trying to sync Chinese or Japanese text to Junecloud might cause the app to crash.
Fixed a bug where the TextExpander did not expand snippets unless TextExpander support was enabled in the settings, and snippets were manually synced. This is now optional, and only necessary if you want to use custom fill ins.
Updated to TextExpander SDK 3.0.5, which fixes a problem where expanded snippets would have a stray letter at the end.
Smoother animation when deleting a note.
Improvements for Junecloud Sync, particularly when logging in or out.
Fixed a bug where the form was blank after a Junecloud Sync sign in error.
Fixed a bug where it was impossible to close the sync settings if there was a sign in error with Junecloud Sync.
Autocorrect is now off for the email field on the sync settings screen.
Fixed a bug where the app would crash when tapping on the version number.
New in version 2.5
A fresh look, with full support for iOS 8, iPhone 6, and iPhone 6 Plus.
Much smaller app size for faster loading.
Easier access to share, export, and delete options while you're viewing a note.
Added a restore option to restore a deleted note without having to edit it.
You can now search your history even after deleting the last note.
Dynamic text to match your preferred text size settings.
Improved iCloud support, especially with accounts that have iCloud Drive enabled.
You can now look up your Junecloud password in either Safari or 1Password.
Improved TextExpander support.
Note: iOS 8 is now required.