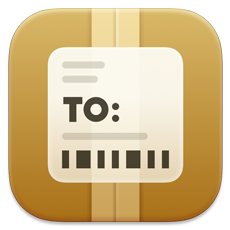 Deliveries
3.1.1 for Mac
Deliveries helps you keep track of all your packages, so you always know when they're going to arrive. Whether it's the latest gadget you've preordered online, or a new graphic novel you can't wait to dive into, Deliveries will keep tabs on it so you don't miss the doorbell.
The main list shows a summary of all your shipments and counts down the days. Select a delivery for more information, and see where it is on a map. If you like you can view the shipping company's web page, or easily share your shipment over email, iMessage, or AirDrop. Deliveries can even add estimated delivery dates to your calendar, and a Notification Center widget lets you quickly check your packages without opening the app. All your old deliveries are archived so you can look them up again if you need to.
Deliveries supports dozens of services, including UPS, FedEx, US Postal Service, DHL, TNT, Canada Post, DPD, and many more. You can also track orders from services like Amazon and Apple, even before they ship. (Some services are limited to specific countries—visit junecloud.com/services for details.) If you have packages from other services, just select "Other" and enter a delivery date and web site—so you can check on them when you need to and still keep everything in one place.
Deliveries is also available for iOS, in a single app that supports iPhone, iPad, and Apple Watch. You can sync your deliveries between devices with iCloud or our own Junecloud sync. If you create a Junecloud account, you can add new shipments from any web browser.
Languages
Deliveries is available in English, German (translated by Jennifer Brehm), Japanese (Nobtaka Nukui and Justin McPeak), and French (Thierry Di Lenarda).
Update history
New in version 3.1.1:
Fixed broken drag and drop in Mojave.
Improved date detection for Amazon.de and Amazon.es.
Improved link detection for DHL and TNT Express Australia.
Improved tracking number detection for Hermes.
Fixed a bug where the service update version was not always updated correctly.
Updated the way URLs are handled in macOS 10.13 and later.
New in version 3.1:
Added support for macOS Mojave's new dark appearance.
Improved results in the Add to Deliveries extension, especially on Apple, Amazon, and Etsy pages.
Improved tracking number detection for Post.at and TNT Express Australia.
Improved handling of unexpected errors.
Improved parsing of Italian dates.
Improved compatibility with future service updates.
Improved security requirements for connections to LaserShip, OnTrac, and TNT Express Australia.
Improved security using macOS Mojave's Hardened Runtime.
Fixed a bug where the 1Password button didn't show if 1Password 7 was installed.
Fixed a bug where multiple clicks on a "1 of X" badge cycled through the packages in the wrong order.
Fixed a bug where Deliveries Express would sometimes continue running in the background even if background updates were not enabled.
Manually checking for service updates will no longer delete the installed update until the new one is downloaded and verified.
Removed the unnecessary tab bar options from the View menu.
Added support for files created by future versions of the app.
Supported services
Amazon Including Amazon.com, Amazon.ca, Amazon.co.uk, Amazon.co.jp, Amazon.de, Amazon.at, Amazon.es, Amazon.fr, and Amazon.it, Amazon.in, as well as Amazon Payments. When you track an Amazon order you'll get tracking details from many of the shipping companies they use, including the US Postal Service, UPS, OnTrac, LaserShip, Ensenda, Prestige, and more.
Apple.com Including all international stores.
Aramex Shop and Ship deliveries only.
Canada Post (Postes Canada)
Chronopost (France)
DHL Including Express deliveries in most countries, as well as most shipments in Germany. Currently DHL GlobalMail information can only be shown in an online view. We do not currently support DHL Express Germany, DHL Parcel UK, SmartMail, DHL ActiveTracing, or DHL Freight.
DPD Germany. Currently DPD UK information can only be shown in an online view.
FedEx Including most countries, as well as FedEx SmartPost. We do not currently support FedEx UK.
GLS Including Austria, Belgium, Denmark, France, Germany, Ireland, Luxembourg, Portugal, and Spain
Hermes Logistik Gruppe (HLG) Germany only.
Japan Post Including EMS, Yu-Pack, Registered Mail, and Morning 10 Overnight Mail. We do not currently support JP Express.
La Poste (France)
LaserShip
OnTrac
Parcelforce
Post (Austria)
Poste Italiane
Posten (Norway) Including Bring.
PostNL (formerly TNT Post Netherlands)
PostNord (Sweden and Denmark)
Purolator We do not currently support Purolator International.
Sagawa Express
Swiss Post
TNT Includes most countries, as well as TNT Express Australia. We do not currently support TNT UK, TNT France, or TNT Italia.
UPS and UPS Mail Innovations We do not currently support UPS Freight, UPS i-parcel, or UPS Air Cargo.
U.S. Postal Service (USPS, United States Postal Service or US Post Office)
Yamato Transport (Kuroneko)
Yodel
Other You can manually add other packages from other services by entering a web site, delivery date, and other info.
In some cases, services we previously supported are no longer available due to changes with the shipping service. These include Australia Post, DHL GlobalMail, DPD UK, Hongkong Post, and Royal Mail. You can still add shipments from these services, but tracking information can only be shown in an online view.