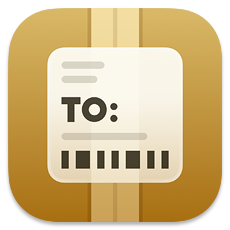 Deliveries
6.1.2 for iOS
Deliveries helps you keep track of all your packages, so you always know when they're going to arrive. Whether it's the latest gadget you've preordered online, or a new graphic novel you can't wait to dive into, Deliveries will keep tabs on it so you don't miss the doorbell.
The main list shows a summary of all your shipments and counts down the days. Select a delivery for more information, and see where it is on a map. If you like you can view the shipping company's web page, or easily share your shipment over email, iMessage, or AirDrop. Deliveries can even add estimated delivery dates to your calendar, and a Notification Center widget lets you quickly check your packages without opening the app. All your old deliveries are archived so you can look them up again if you need to.
Deliveries supports dozens of services, including UPS, FedEx, US Postal Service, DHL, TNT, Canada Post, City Link, Royal Mail, DPD, and many more. You can also track orders from services like Amazon and Apple, even before they ship. (Some services are limited to specific countries—visit junecloud.com/services for details.) If you have packages from other services, just select "Other" and enter a delivery date and web site. Deliveries will watch the site and let you know when it changes.
Deliveries is also available for Mac. You can sync your deliveries between devices with iCloud or our own Junecloud sync. If you create a Junecloud account, you can add new shipments from any web browser.
Languages
Deliveries is available in English, German (translated by Jennifer Brehm), Japanese (Nobtaka Nukui and Justin McPeak), French (Thierry Di Lenarda), Italian (Ivano Brignoli), Dutch (Tim Van Damme), Norwegian (Jonas Ensby), Danish (Tony Lorentzen and Christian Rasmussen), and Swedish (Christofer Karlsson).
Update history
New in version 6.1.2
Apple Watch: the Glance has been redesigned to focus on the number of days until your next delivery instead of the number of packages.
Apple Watch: there is now a progress spinner at the bottom of the screen if the app is busy updating.
The Add to Deliveries extension is now supported in more apps, including Google Chrome. (Though it does work best in Safari.)
Previously a delivery would always show the archive button if the delivery date was missing or in the past. This is no longer the case unless the status has not changed in 3 days or more.
If you paste in a long string of text on the Add Delivery screen—instead of just a tracking number by itself—you're now more likely to see existing deliveries that match.
Fixed a bug where tracking numbers immediately followed by a period may not be found.
Fixed a bug with Amazon where a "sign in required" error might not go away even after you signed in.
Updated 1Password support.
Fixed some possible crashes, and several other minor bug fixes.
New in version 6.1.1
Fixed a crash when adding a new delivery on iOS 8.0 through 8.0.2.
Apple Watch: Fixed various problems with Refresh or Archive not working, or the list of deliveries not updating when it should.
Apple Watch: Fixed a bug where you couldn't view more than 8 deliveries.
Apple Watch: Fixed a bug where the "1 of 3" badge might get cut off in some langauges, especially on the 38mm watch.
Apple Watch: Fixed a bug where the Glance might say "None" at the bottom when there are no other deliveries expected. That line will now be blank in those cases.
Apple Watch: Fixed a bug where notification text might get cut off at the bottom.
Improved the display of delivered items that don't have a lot of information available. These used to show "Shipped! Delivered!" in the list. They will now show "Delivered!" on the first line, and "Delivered [date]" on the second line.
Improvements for tracking number and URL detection, particularly for U.S. Postal Service and OnTrac, as well as numbers with spaces in them.
Mapping improvements for certain locations.
A new Junecloud logo.
Some other minor improvements and bug fixes.
New in version 6.1
Apple Watch: now includes an app, Glance, and notification support for Apple Watch.
Handoff: if you're viewing or editing a delivery and you want to switch to another device, you can now use Handoff to take you straight there.
Sharing: you can now share a snapshot of your delivery, which is fun if you want to tweet about how that pre-order you're so excited about just shipped. It tries to leave out stuff you probably don't want to share, like the tracking number and your current location. The email sharing template has also been improved.
Search: you can now filter your search results by Archived, Active, or All. This gives you an easy way to browse all your archived deliveries—just choose All or Archived without entering any search text. You can also search by delivery date, using the format YYYY-MM-DD. That means you can search for a specific day ("2015-04-24"), a whole month, ("2015-04"), or an entire year ("2015").
Multiple packages: deliveries with multiple packages have a new look, to make it more clear what the numbers mean, and which package is currently selected. In the details view, you can now tap anywhere in the text for a package to select that package. Changing the selected package will now highlight its location on the map. Plus when you double-tap to change the selected shipment in the Today widget it will now update in the main app.
The Add Delivery screen now has section headings to make it more clear what options are available.
You can now scan a barcode when you're editing a delivery.
Syncing improvements for iCloud and Junecloud.
Better error handling when syncing with Junecloud or checking for service updates.
Faster downloading of service updates.
Fixed a bug where deleting a delivery did not remove calendar events related to it.
If a location in the format "City, State 12345" isn't found, it will now try again without the zip code.
Fixed a bug where opening an invalid .deliveries file would automatically add the invalid delivery. It will now open the Edit Delivery screen and ask you to correct any problems.
Fixed a bug where the day count on the details screen did not always update when it should.
Pull to refresh will no longer update deliveries that are complete—when all shipments have been delivered. You can still manually refresh a delivered item by tapping the "…" button and choosing "Refresh" there.
The network activity indicator now displays properly during updates (that's the tiny spinner in the status bar).
When you adjust your text size, the icons (like checkmarks) will now scale up or down to match.
Much better map zooming in many cases. Previously there were a lot of cases where it would be zoomed out more than you would have expected—that is now much less likely to happen.
Improved caching of map locations.
Updated 1Password support.
Many other minor bug fixes and improvements.
Supported services
Adobe.com US and Canada only
Amazon Including Amazon.com, Amazon.ca, Amazon.co.uk, Amazon.co.jp, Amazon.de, Amazon.at, Amazon.es, Amazon.fr, and Amazon.it, Amazon.in, as well as Amazon Payments. When you track an Amazon order you'll get tracking details from many of the shipping companies they use, including the US Postal Service, UPS, OnTrac, LaserShip, Ensenda, Prestige, and more.
Apple.com Including all international stores. We do not support the iPhoto print service, though you may be able to track these shipments with a different service once you receive a tracking number.
Aramex Shop and Ship deliveries only.
Australia Post
Canada Post (Postes Canada)
Chronopost (France)
City Link
DHL Including Express deliveries in most countries, US GlobalMail, UK Domestic Express, and Germany. We do not currently support DHL Express Germany, UK Domestic Express, SmartMail, DHL ActiveTracing, or DHL Freight.
DPD Germany. We do not currently support DPD UK.
FedEx Including most countries, as well as FedEx SmartPost. We do not currently support FedEx UK.
GLS Including Austria, Belgium, Denmark, France, Germany, Ireland, Luxembourg, Portugal, and Spain
Hermes Logistik Gruppe (HLG) Germany only.
Hongkong Post
Japan Post Including EMS, Yu-Pack, Registered Mail, and Morning 10 Overnight Mail. We do not currently support JP Express.
La Poste (France), letters only.
LaserShip
OnTrac
Parcelforce
Post (Austria)
Post Danmark
Poste Italiane
Posten (Norway)
Posten (Sweden)
PostNL (formerly TNT Post Netherlands)
Purolator We do not currently support Purolator International.
Royal Mail
Sagawa Express
Swiss Post
TNT Includes most countries, as well as TNT Express Australia. We do not currently support TNT UK, TNT France, or TNT Italia.
UPS and UPS Mail Innovations We do not currently support UPS Freight, UPS i-parcel, or UPS Air Cargo.
U.S. Postal Service (USPS, United States Postal Service or US Post Office)
Yamato Transport (Kuroneko)
Yodel
Other You can manually add other packages from other services by entering a web site, delivery date, and other info.